ParticipACTION Community Better Challenge - June 1-30th, 2022
---
---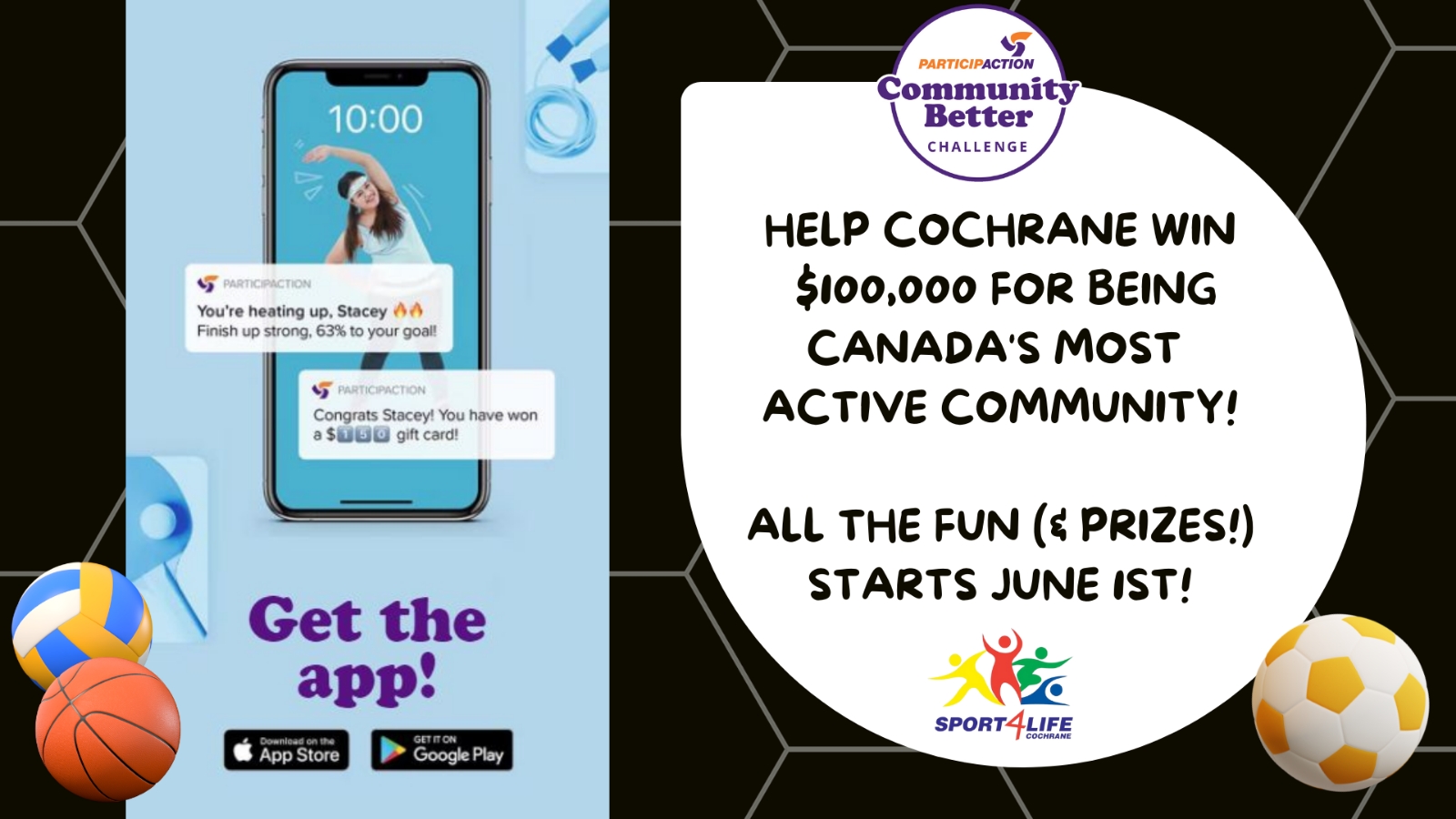 ---
Lets help Cochrane become the most active community in Canada.
Hello Cochrane Sport Network,
The Community Better Challenge is starting today and kicks off a month of exciting events. See below.
If you have any questions about our upcoming events or how to set up your group's Community Better Challange, feel free to email me at sport4lifecochrane@gmail.com!
ParticipACTION Community Better Challenge - June 1-30th, 2022
The ParticipACTION 2022 Community Better Challenge is a national physical activity initiative encouraging all Canadians to get active for mental, social, and physical health.
*If you are a sport organization, fitness class, school, etc. you can record your minutes for the month and submit them as a group*
TRY-IT DAY - June 12, 2022
On June 12 from 9 am-4 pm, children and youth between the ages of 6-18 will have the opportunity to try a variety of sport and physical activity sessions for FREE. Highlighting the power of sport, local organizations will be showcasing the many great options that exist in our community and providing a fun and safe place for children and youth to come give sport a try. Registration will be open on June 1st at
www.sport4lifecochrane.com
. A special thank you to SLSFSC for their partnership and hosting the event.
We are in need of volunteers between 8:15 am-12:15 pm and 12:15 pm-4:00 pm - please contact us if you can lend a hand.
Bike-a-thon - June 1-30th, 2022
Join us for a month-long bike-a-thon, open to everyone, regardless of age and skill level, starting on June 1 with the goal to raise awareness and funds in support of completing the Trans Canada Trail between Calgary and Cochrane. We will celebrate your support and accomplishments with a closing celebration at Cochrane Toyota on July 3 from 12 - 2 pm with FREE food and refreshments. All the minutes logged in the bike-a-thon can also be logged for the Participaction Community Better Challenge. For more information or to register, visit:
www.supportthetrail.com
Summary:
- Download the ParticipACTION app today and get ready to log your minutes
- Please promote Try It Day - Volunteer if you can and register your kids!
- Take part in the Bike-A-Thon and help raise funds and awareness for the trail
Eline Ursem
Marketing and Events Assistant, Sport 4 Life Cochrane
403-993-5601 |
www.sport4lifecochrane.com
sport4lifecochrane@gmail.com
In the spirit of reconciliation, we acknowledge that Cochrane, AB is on the traditional territories of the Blackfoot Confederacy (Siksika, Kainai, Piikani), the Tsuut'ina, the Îyâxe Nakoda Nations, the Métis Nation (Region 3), and all people who make their homes in the Treaty 7 region of Southern Alberta.